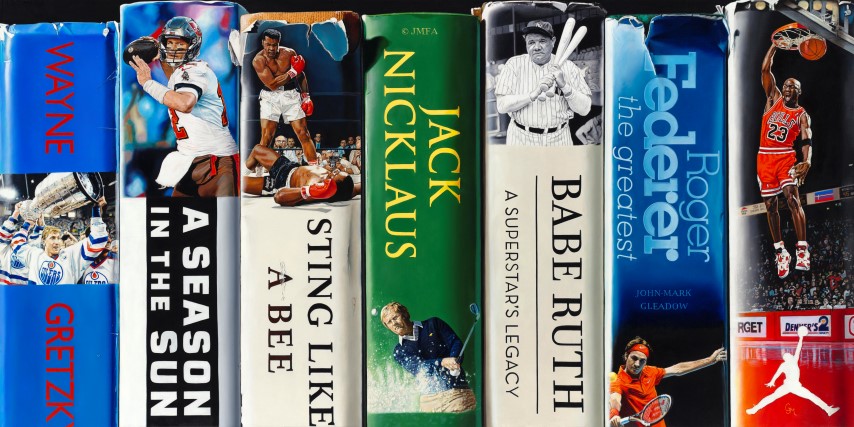 G.O.A.T.
< Newest release!
12 x 24"

canvas

edition of 195, $725


24 x 48" canvas edition of 95, $1,595
Artist's Proof edition of 25 on canvas,

$2,595

Wayne Gretzky | Tom Brady | Muhammad Ali | Jack Nicklaus | Babe Ruth | Roger Federer | Michael Jordan
From the artist:

I researched this painting for about 6 or 7 years. It was an obvious theme to me to tackle, but in researching the piece I would always get hung up on a sport or two where the greatest of all time wasn't totally clear to me. I loved sports growing up and was a baseball player throughout high school, along with running cross country. The athletes I grew up watching informed my decision of who to include and I also considered their characters as well.
Of course, stats were important to my choices, as was public opinion. I considered including Pele but decided to do 7 books instead of 8. Joe Montana was originally on the football book, but I sanded him off and went with Tom Brady instead as Brady's stats made him the obvious choice to me. I strongly considered painting Tiger Woods again but after considering some of the controversies surrounding him and talking with golfers, the Golden Bear became my choice. Roger Federer was a clearer choice to me when I began the piece - since that time Nadal has surpassed him in some metrics. But I really admire Federer for how he handled himself on the court and off.
I'm already considering a sequel painting. Labron James, for example, is a great basketball player and is still on the court, putting up numbers. Maybe, someday, Patrick Mahomes will be considered the greatest of all time. He'll need to stay healthy and win many more Super Bowls. So, the greatest of all time is an evolving list, but as for me, at the time of painting G.O.A.T., in my heart and in my mind, these are the greatest of all time in their respective sports.
Love's Journey
< New release!
Edition of only 35 in each size
12 x 24"

canvas

, $725


24 x 48" canvas, $1,595
Artist's Proof edition of 10 on canvas,

$2,595

Louis Armstrong | The Black Eyed Peas | Harry Connick, Jr. | Etta James | Ed Sheeran | John Denver | IZ

PS241
< New
12 x 24"

canvas

, $725


24 x 48" canvas, $1,595
Artist's Proof edition of 35 on canvas,

$2,595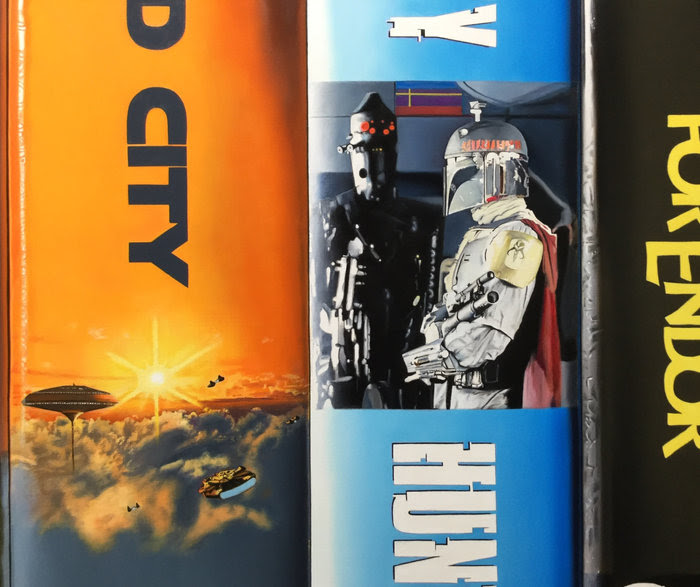 PS241
detail


The Boss (
Bruce Springsteen)
< New release!
12 x 24"

canvas

, $725


24 x 48" canvas, $1,595
Artist's Proof edition of 35 on canvas,

$2,595

Single Printer's Proof on canvas,

$3,595

Love
< New release!
24 x 24"

Limited edition of 95 on canvas, $995

Artist's Proof edition of 10 on canvas,

$1,650

Single Printer's Proof on canvas,

$2,550
Reduced size 14 x 14" dye sublimation on metal edition of 150, $495
After a wait of over 10 years, we are excited to release the Limited Editions of "Love"! This oil on canvas from 2009 portrays love in a few different ways: The "Doni Tondo", sometimes called "The Holy Family", by Michelangelo, the Cirque du Soleil show "Love" – which John-Mark had just enjoyed in Las Vegas - inspired by the music of the Beatles, and "Lilies" which represents John-Mark's own love of gardening and nature. Valentine's Day was the perfect time to release the beautiful editions of this amazing painting – John-Mark's second release to include sublimations on metal which are absolutely stunning! Enjoy!




Across the Globe

< New release!


24 x 24"


Limited edition of 95 on canvas, $995


Artist's Proof edition of 10 on canvas,

$1,650


Single Printer's Proof on canvas,

$2,250




Reduced size 14 x 14" dye sublimation on metal edition of 150, $495




The original one-of-a-kind oil painting on panel is available for $13,000



Prior to completing Sweet Love"(see below), John-Mark was commissioned to create a 24" x 24" painting of Prince book spines. He enjoyed doing the Prince piece and liked working in a square format. After working almost exclusively in a 24" x 48" format for 12 years, he wanted to do a square piece to add to his program.

Travel is a subject that John-Mark has been asked about by collectors over the years and is something John-Mark has always enjoyed. In fact, the reason John-Mark relocated from Delaware to the Shenandoah Valley was that his family would frequently vacation there and he came to love the area as a result. Mark Twain wrote, "Travel is fatal to prejudice, bigotry, and narrow-mindedness, and many of our people need it sorely on these accounts. Broad, wholesome, charitable views of men and things cannot be acquired by vegetating in one little corner of the earth all one's lifetime."

Among John-Mark's favorite destinations have been the Bahamas, Hawaii, Jackson Hole, London and Bermuda. People are the same everywhere but cultures vary greatly and a different viewpoint refines one's own. John-Mark took a look at the most popular global destinations and chose an image for each book to represent some of them. The thin books and small landscapes were a challenge. To increase the painting's impact, John-Mark decided a globe in the foreground would be the perfect addition to the composition. While he was at it, he also felt depicting the bookcase itself would further increase the 3-dimensionality of the piece. The result is a painting that is not only inspirational but aspirational – one that results in the viewer revisiting memories of previous travels and determining to make new memories in the future.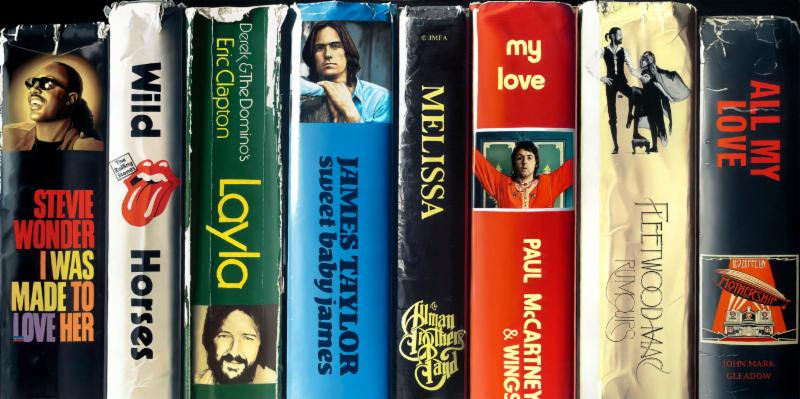 Sweet Love

< New release




12 x 24"

canvas

, $725


24 x 48" canvas,

$1,595
30 x 60" canvas, $1,950


Artist's Proof canvas,

$2,595


Single Printer's Proof on canvas,

$3,595
The original one-of-a-kind oil painting on panel is also available. Please inquire!



We are very excited to announce the release of Sweet Love - the newest painting in John-Mark's Bibliotheque Series. This painting is the product of John-Mark's love of the music of these Rock and Roll Hall of Fame musicians. These love songs and albums meant a great deal to him as he was growing up, and they continue to move him today.

From the artist:
"Sweet Love" had its genesis over the dining room table at a friend's house. I had just completed "King of Fear" and was asked what I would be painting next. I talked with them about an idea I had been kicking around about the theme of the love songs and albums of my favorite members of the Rock and Roll Hall of Fame. I also shared with them that I felt that I had perhaps dealt with the subject of music in my Bibliotheque Series sufficiently and that the topic I was working on at the time was Broadway. I related what I had researched and found on the theme and everyone agreed about how strong the painting would be if I handled it correctly. Just then, though, my friend said, "If you did a Broadway painting, I know it would be strong, but when you talked about the Love piece, your eyes lit up so that's what I think you should do next." I often speak with collectors and friends about how you can see it when my heart is in the painting I'm working on. So, I realized that my heart should lead my decision of what to work on and I went to work immediately.

I was surprised by some of the artists included in the Rock and Roll Hall of Fame and so I had a broad range of musical styles to choose from. In the end, however, I still needed to do what I was familiar with and loved. Stevie Wonder has been one of my favorite musicians since the time I first became aware of what Pop Music is and "I Was Made to Love Her" has long been one of my favorites and it has special significance to me now. The object of Stevie's affection in the song is "Susie" and Sue is my wife's name. He also mentions how their love blossomed tenderly like a sweet Magnolia tree; Magnolia is the name of the town in Delaware where Sue grew up. We also found something poetic that occurred with the book next to Stevie Wonder's: "Wild Horses". As I was working on the painting in December 2018, we went to the Christmas concert of our son's second grade class. The climax of the performance was when they sang "Wild Horses" by the Rolling Stones and I recall they really sang out with all they had. Our family thought it was so cool! Layla is such a powerful song I remember it really touching me when I was in high school. Ever since I discovered Led Zeppelin, "All My Love" has been a favorite song of mine. I included "Rumors" as a way of changing it up a bit since the album was the product of such a tumultuous time within the band… because of love. I've always been a fan of Paul and Linda McCartney and admired their genuine love for one another and felt "My Love" was a perfect fit. As I laid out the painting it was important to me that the word "love" appear 3 times in the piece since it is said, "God is love" and that he is the Trinity.

Interestingly, the title Sweet Love was chosen by a collector during a naming contest which was held during one of the shows I was invited to do while I was working on the piece.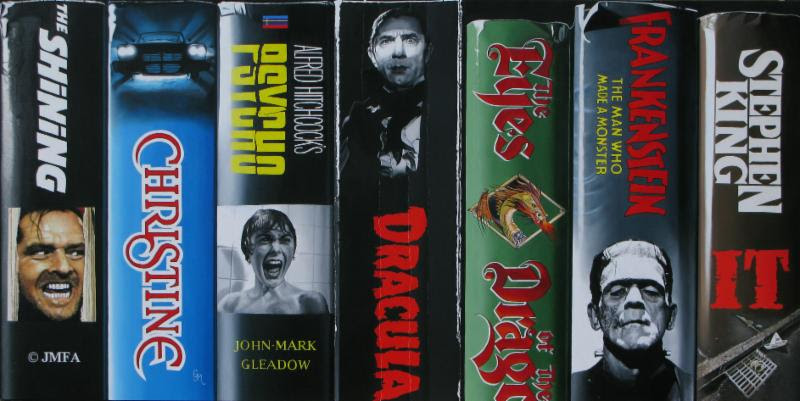 King of Horror




12 x 24"

canvas

, $725


24 x 48" canvas,

$1,595
The original one-of-a-kind oil painting is also available. Please inquire!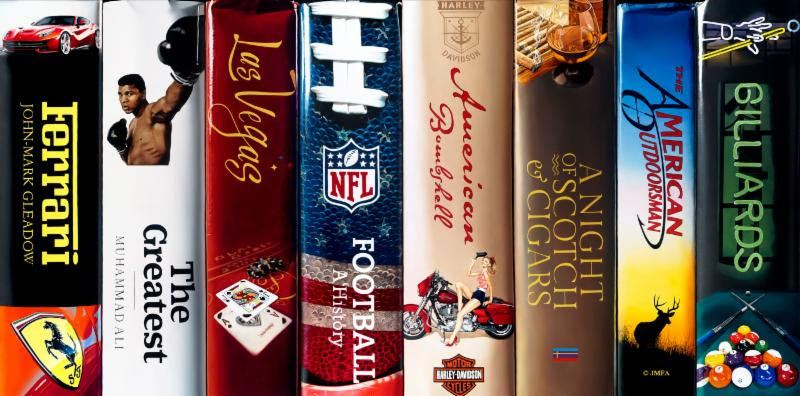 The Ultimate Man Cave

< New!




12 x 24"

canvas

, $725


24 x 48" canvas,

$1,595


30 x 60" canvas,

$1,950
The original one-of-a-kind oil painting is also available. Please inquire!


The Ultimate Man Cave detail from full painting
The Day the Music Died
12 x 24"
canvas

, $725 on display now!

24 x 48" canvas,

$1,595

30 x 60" canvas,

$1,950

Artist's Proof canvas,

$2,595
Note: Nearly sold out. Please contact us to confirm availability!
From the artist:
This is a piece that I contemplated painting for a long time. Music is obviously an important part of my life. One of my earliest musical memories surrounding popular music was hearing "American Pie", by Don McLean, for the first time. Being nine years old or so at the time, I didn't understand what the lyrics meant, but the song was still able to touch me deep inside and left an indelible mark there. I think the idea for "The Day the Music Died" grew organically from that song, as if the idea was always there.

Buddy Holly was naturally to be included in the painting but he was the only one from that tragic incident that I wanted to include since there have been so many other tragedies. I had done research for the painting over the years and I always work from lists. Getting to #6 on the list was easy for me, but I was never clear who the seventh would be no matter who I talked to or what angle I looked at my vision for the painting from. Interestingly, Michael Jackson was one of the six from the beginning. I was certain that I wanted to use an image of him from the "Thriller" album. Then, when David Bowie died earlier in 2016, I knew I had #7.

I had the Ziggy Stardust iconic image of him (with his eyes shut) solidly in mind and set to work sketching the piece. I sketch directly on the panel for a few weeks before I begin to paint. Once the sketch was completed, we loved the layout. But as I began to work on the underpainting, both Susan and I were dissatisfied with the painting, though we didn't know why. Just then, Prince died and it seemed that supplanting Michael Jackson with him was the fix.

As the underpainting progressed, we still weren't satisfied with the portrait of Bowie. Hearkening back to my high school days, I felt that Curt Cobain would be a good substitute. His portrait turned out to be so strong, though, that it overpowered the others. So, working with some wonderful collectors and friends of mine in Florida, we all decided the portrait of David Bowie that appears in the piece now was right for the painting. I had the same concern that perhaps Bowie's portrait might overpower the others, and though it is strong, I still find the composition to be harmonious.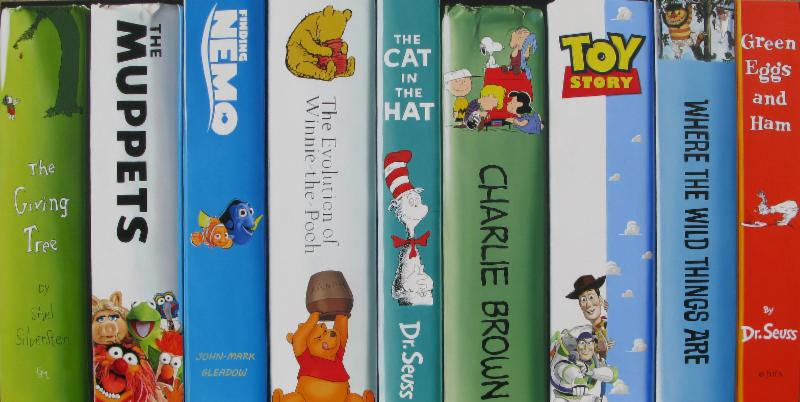 Forever Young
12 x 24"
canvas

, $725
on display now!
24 x 48" canvas,

$1,595

Artist's Proof canvas,

$2,595

Single Printer's Proof on canvas,

$3,595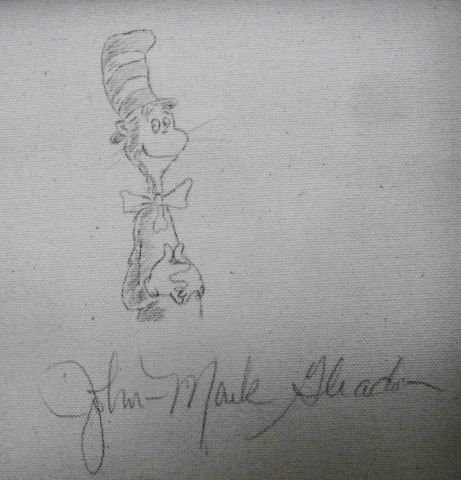 This "remarque" pencil drawing is on the back of the Forever Young canvas!

Heroes
< New
12 x 24"
canvas,

$725
on display now!

Available by special order

24 x 48", $1,595
and 30 x 60", $1,950

Artist's Proof canvas,

$2,595

John-Mark was inspired to do this painting because of the importance of the subject matter in his life, and especially in his childhood. A few art collectors and consultants had mentioned the theme to him in the past as well, but one particular collector had a big part in making sure that this genre of subject matter would be strong.
Even though it is essentially a comic book piece, it is so much more than that due to the incredible attention to detail that John-Mark gives to each individual book and character. It is like getting seven of John-Mark's paintings in one!
The genesis of "Heroes" came as I did research for a classic comic book painting. I had a series of some of the classic comics with the highest value – and the original Batman cover did make it in to "Heroes" – but I felt that the piece would be stronger using the more iconic elements of the comic book genre.

The inclusion of Star Wars in the painting was partly due to what I would call a "Comic-Con influence" and partly due to my desire to do an entire painting devoted to Star Wars because of its impact on my childhood and beyond.

I collaborated with several friends and enthusiasts much more knowledgeable about this genre than myself, and I suppose the inclusion of "The Watchmen" is due almost entirely to their thoughts. Incredibly, I originally had Wonder Woman as the sixth book (l-r). I'm frequently concerned about my paintings being too male dominated and "The Justice League" was one of the cartoons I watched most as a child and so she has a lot of relevance for me. But the proponents of the inclusion of "The Watchmen" were so adamant that as I researched the subject I came to find that they were correct and that the piece would be stronger if I took their advice.

I also have to mention the central placement of Superman, as he is so critical to the painting. Superman and Star Wars would be in a tie for the most important elements of the painting to me. I've always identified Christopher Reeve as Superman, personally, due to the fact that movies have been much more important in my life than comics have been. But once again, those with whom I collaborated insisted that one of Alex Ross' depictions of the Man of Steel would have the most impact and I would have to say that again, they were correct.

I think the end result is a painting that resonates, is balanced and flows nicely.




New Wine


12 x 24" canvas, $725


Available by special order

24 x 48",

$1,595
24 x 48" Artist Proof embellished by the artist $2,595


Single Printer's Proof on canvas,

$3,595
A couple detail photos from the original painting are shown below.


With over 250 vineyards and 9 wine making regions, Virginia naturally inspires any artist living within it to try to capture the emotion and richness wine brings to humanity. Before John-Mark moved to Virginia, a vineyard an hour east of where he currently resides, one in Barboursville was one of he and his wife's favorite places to stay.

The research for this artwork was very enjoyable for John-Mark and his family. They spent their days going from vineyard to vineyard, beginning with the winery in their hometown of Staunton, Ox Eye Vineyards, then going south in the valley to Rockbridge Vineyard, east to Barren Ridge and then eventually back to Barboursville. They learned so many things about the process of making wine and the varieties that exist that they truly feel their lives have been enriched by the process. And the fact that so many lives across so many cultures are enriched by the enjoyment of wine is a feeling that John-Mark has captured with this painting.

The history of wine making is so rich, not just in Virginia, but globally, even though the painting is entitled "New Wine", it also captures something timeless.

The Beatles
12 x 24" canvas, $695

24 x 48" edition of only 95 $1,595

It is with great excitement that we are announcing the release of John-Mark's highly anticipated "The Beatles". When John-Mark began working on "The Beatles" in the Spring of 2013, he was unaware of the fact that the 50th Anniversary of Beatlemania was approaching. Having done "Classic Rock" and "Classic Rock II" because of his love of the music, it was natural for him to do a piece solely devoted to his favorite group of all time.

One of John-Mark's first thoughts about doing the piece was the inclusion of Yellow Submarine. Not only has he loved the song since he was a boy, but he later discovered the Yellow Submarine movie which he also loved. The idea of doing a George Harrison book came about because George's song "When we was Fab" is one of John-Mark's favorite songs, across all genres. He also liked that the portrait of the younger Harrison is a reference to the Revolver album. John-Mark knew Sgt. Peppers had to be included in some way, and the opportunity to also include a reference to George Martin presented itself with the inclusion of the book authored by the famed music producer. Abbey Road became the central book in the piece, not only because it's John-Mark's favorite Beatles album, but also because the album is so adored by other Beatles fans. A Hard Day's night was included as a reference to the movies The Beatles did and The Beatles Anthology book rounded out John-Mark's selections because he loved the many references the image of the collage contained.

To date, "The Beatles" is John-Mark's favorite painting in his Bibliotheque series and the one he has enjoyed working on the most.

The Finer Things
Available by special order
12 x 24" edition of 50 ($725) or 24 x 48" edition of only 25 ($1,595)
Also available is the Artist Proof at $2,595 and the sole enhanced Printer's Proof at $3,595.
We are proud to announce John-Mark's new release which was commissioned by Thomas Sorensen, a Danish football player who plays in the English Premier League. Thomas and his wife chose books and topics that mean a great deal to them.

An intriguing assortment of popular topics were selected for this piece. From "Master Images", which is a very good representation of the life's work of photographer Irving Penn, best known for his efforts in the fashion industry, to Robert Parker's, "The Wine Advocate", the limited editions of this piece reflect an affinity for some of the finer things in life.

As the subject matter of the painting is specific to the Sorensen's and is of their choosing, John-Mark has chosen to make the edition sizes considerably smaller than his normal releases.

Man's Best Friend
Available by special order
12 x 24" ($725) or 24 x 48" ($1,595)
With 2 dogs of their own, John-Mark and his wife Susan's lives are heavily influenced by their furry companions. Bliss, their Jack Russell Terrier - who appeared in John-Mark's painting, "Dali's Bliss" - and Abby, a Border Collie mix the family ironically adopted while John-Mark was working on this piece, bring a lot of love and activity into the home.

Susan is a dog trainer and has been involved with dogs professionally for two decades. John-Mark enjoys hiking with the dogs in the Blue Ridge and Allegheny Mountains of Virginia, while Susan is involved in agility with them. The Story of Rose book was suggested by Susan, not only because John Katz is one of her favorite authors, but because Border Collies are her favorite breed and the dog pictured at the bottom of the book bears a strong resemblance to "Belle", the family's Border Collie which they had to let go one year prior.

Classic Rock II
24 x 48" canvas, $1,595
on display now!

Available by special order 12 x

24",

$725

24 x 48" Artist Proof embellished by the artist $2,595


Editing "Classic Rock" down to the 8 subjects John-Mark chose to depict in the piece was
one of the hardest things he has had to do in his Bibliotheque Series. The topic is so
broad and rich and of such interest to John-Mark, there was much more he wanted to do
with it – and so "Classic Rock II" was born.

Choosing just 8 more subjects proved to be a
difficult challenge again. The Beatles were his first choice for the piece and so they were
placed in the prominent middle/top position. Jimi Hendrix had appeared in the original
sketch for "Classic Rock" so John-Mark had to find a place for him in this piece. David
Bowie is one of John-Mark's favorites, as is Queen: the images he found for both worked
best if placed to the extreme left and right. Eric Clapton and Elton John both occupy
prominent places in John-Mark's own personal music collection and so place was found for
them as well.

One interesting tidbit is that John-Mark altered the picture of Elton John,
placing his trademark flag behind Elton so that collectors and admirers of John-Mark's
work have had a more difficult time locating that familiar symbol in this piece. John-Mark
felt that The Who had to be included due to their importance, and Aerosmith was
the final piece that fell in to place. John-Mark still laments that Janis Joplin – who, like
Jimi Hendrix – appeared in his first draft of "Classic Rock", failed to make it into this
piece simply due to the fact that he "just wasn't able to make it work." Fans of hers need
not lament, though – John-Mark has plans for her for a future piece in which she would
be central. We can't wait to find out what he has in store!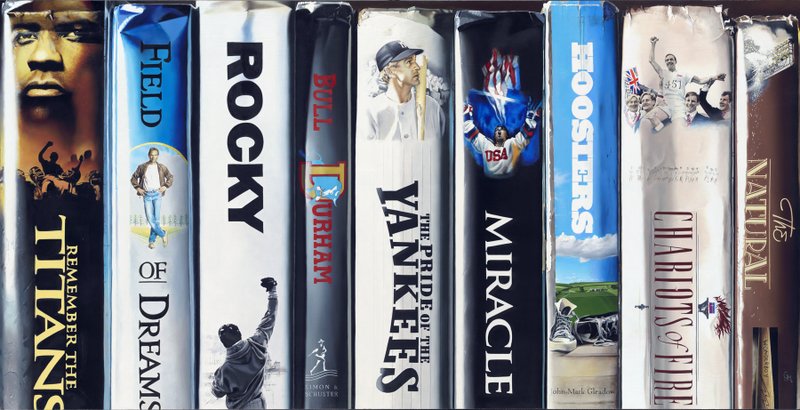 Great Sports Movies
Available by special order 12 x 24" ($725) or 24 x 48" ($1,595)
A stand out athlete in high school, John-Mark had long contemplated doing a sports piece. The final nudge to get him to finally do one came when a collector, who had purchased John-Mark's original, "Once Upon a Time", asked John-Mark to consider doing a sports piece for him.

When John-Mark heard his ideas, he lept at the opportunity. The collector supplied John-Mark with many lists of the greatest sports movies of all time and John-Mark did his own research as well, looking not only at the movies themselves but what is most important to him – the images that accompany those titles with a view towards how they would all work together.

After many months of consultation with a special emphasis on The Natural book, the Rocky book and the book heights, the two men reached a consensus and work began. Being John-Mark's favorite movie of the lot, and one which he suggested be in the piece, Chariots of Fire also proved to be the most challenging due to the number of portraits the one book spine contains.

The Chariots of Fire book which John-Mark created also proved to provide some suspense for the collector and John-Mark after the piece was delivered. After it was hung in his home, the man who commissioned the piece called the gallery through which he was provided with John-Mark's services in a panic – there was a hole in the piece! The consultant contacted John-Mark and explained to him what the problem was. As he looked back at his personal photos of the progression of the piece, John-Mark got a good chuckle. Relieved, he explained to the art consultant that the original had not been pierced as the collector had feared – John-Mark had painted the dust jacket of the book to be old an worn, as he often does, and part of that damage was that there was a small hole in the dust jacket on the "o" in Chariots. Everyone was relieved & amazed that even upon the closest inspection, John-Mark's abilities blur the line between reality and the images he creates.

Hollywood
12 x 24" canvas, $725

Available by special order

24 x 48",

$1,595

24 x 48" Artist Proof embellished by the artist $2,595
Born of his love of movies and the fact it's a great theme that John-Mark wanted to explore,
"Hollywood" captures the feel of the Golden Age of the Silver Screen. Marilyn Monroe and Liz Taylor were two icons that John-Mark wanted to stand alone in the piece because of the power they possess in and of themselves. John-Mark felt the piece would be incomplete without Casablanca and his love for and childhood memories of the Wizard of Oz led to its inclusion.

Love Story was included due to John-Mark's wife Susan's own love of the movie. James Dean's iconic status led to his inclusion, but John-Mark hadn't seen "Rebel Without a Cause." So, before he finalized the painting's line up, he watched the movie and decided that both he and it would fit the piece perfectly.

John-Mark had grown to appreciate the Sound of Music over time, and the talent of Julie Andrews as well. The well known scene of Ms. Andrews in the field of flowers was a perfect choice. Interestingly, it was this section of the painting that John-Mark was working on in his original studio in his parent's home the week before he, his wife and son moved to Virginia. As he was painting Ms. Andrews' left arm, he felt his chair move slightly forward, then ever so slightly back, before the entire house began to violently shake. It was the earthquake that struck the East Coast in August of 2011.




In Good Taste


12 x 24" canvas, $725


24 x 48" canvas, $1,595

on display now!
24 x 48" Artist Proof embellished by the artist $2,595



The theme for this piece came to John-Mark as an obvious choice – the love of enjoying fine food and drink is universal! This painting is atypical for John-Mark in that it only contains one portrait, but his skills as a photo-realist are definitely on display as he depicts the bottle of Patron and plate of chocolates. The viewer is certain that he can reach out and touch the cocoa dust atop one of the candies!

John-Mark was pleased that his own enjoyment of cigars played so well with the theme and that he could include a book devoted to them at the far right, as if to say, "What could be better after a gourmet meal than sitting down & enjoying good conversation with friends and family over a cocktail and fine cigar?"





P
aradise
12 x 24" canvas, $725

Available by special order

24 x 48",

$1,595
"Paradise" began with a desire to capture the feel of the islands and the human desire to escape. Nothing captured the feel of what John-Mark was going for more than Jimmy Buffett and so his portrait came to be the centerpiece of the painting.

The life of Bob Marley and his music also captured that feeling – John-Mark also wanted to incorporate Marley because of his appreciation for his music. John-Mark's love of snorkeling prompted the inclusion of "Dive in Style." Sailing seemed an obvious theme to include and water is one of John-Mark's favorite subjects to paint. The surfing culture is something that compliments the painting's theme perfectly, as does the idea of relaxing and enjoying the perfect cocktail while your feet are in the sand!

This was such a fun piece for John-Mark to paint and he absolutely loves the color combinations. He's very satisfied that he has captured the feeling of paradise!

Once Upon a Time
12 x 24" canvas, $725

24 x 48" canvas,

$1,595

24 x 48" Artist Proof embellished by the artist $2,595
What a fun piece! Obviously, if one is going to paint books spines, he must do a children's books piece: "Once Upon A Time" is the result. Beginning with an extensive list, John-Mark was able to whittle it down to an iconic, classic, beloved mix. Growing up, Alice in Wonderland, The Little Engine That Could, Peter Pan, The Three Little Pigs and Winnie the Pooh were John-Mark's favorites.

John-Mark's appreciation for Dr. Seuss came about after he had grown and the inclusion of Harry Potter was due to the frequent suggestions he would receive regarding the inclusion of something from the series.

Little Golden Books hold a special place for John-Mark from his childhood and his wife Susan lobbied him strongly that Pokey Little Puppy be featured on the spine of the book. Lastly, Curious George was included due to his popularity and also for aesthetic reasons: John-Mark felt the painting needed the red of the book to help balance the composition.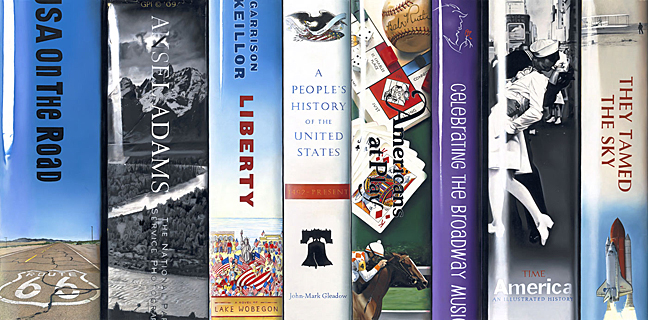 U.S.
Available by special order 12 x 24" ($725) or 24 x 48" ($1,595)
As John-Mark began brainstorming for his next painting following "Classic Rock", his mind went to the iconic image of the sailor kissing the nurse as the US and its allies emerged victorious from WWII. He then thought of the patriotism evoked by that image and decided it would be an obvious theme to depict. What was not obvious was what to include and what to leave out of a painting dealing with such a broad and important theme.

John-Mark definitely wanted to touch the nation's rich history, achievements and its great natural beauty. Certain images John-Mark was able to work in to the painting included the American flag, the Liberty Bell, the Statue of Liberty and the bald eagle. Interestingly, this is the first appearance of John-Mark's secret symbol, or flag. He decided to hide it in the center of the king card on the American's at Play book.

Classic Rock
24 x 48" Artist Proof on canvas sold out at $2,995

12 x
24" a
vailable by special order at

$825
A 24 x 48" hand-embellished printer proof is available at $3,595
Note: Classic Rock is nearly sold out!

During a presentation he was giving at a gallery in South Lake Tahoe, Gleadow revealed to the art consultants and staff there that he wanted to break out a little bit and do a piece based on something he loved – Classic Rock – specifically that he wanted to do something with Led Zeppelin in it, but had felt that it was a little too edgy compared to the more conservative paintings he had been doing. The staff strongly encouraged him to do the piece saying that even children were listening to Led Zeppelin these days.

Buoyed by their confidence in his idea, John-Mark set out to design a piece that captured an entire era of American Rock music. The task was daunting, to say the least. How was he to whittle the genre down to just 8 examples? He agonized over the task for weeks. Initial iterations of the piece had Janis Joplin occupying the first position (l-r) with Jimmy Hendrix next to her.

The owner of the original has two drawings that John-Mark did of Jimmy Hendrix as studies for Classic Rock. His final touch, having designed the piece and laid out the ideas, was to place the logo of the gallery that had encouraged him to do what he truly wanted to do in the lower left corner of the piece, just below The Eagles logo. What an awesome piece it turned out to be!

Could You Would You
12 x 24" available by special order, $725
Available by special order

24 x 48",

$1,595

24 x 48" Artist Proof embellished by the artist $2,595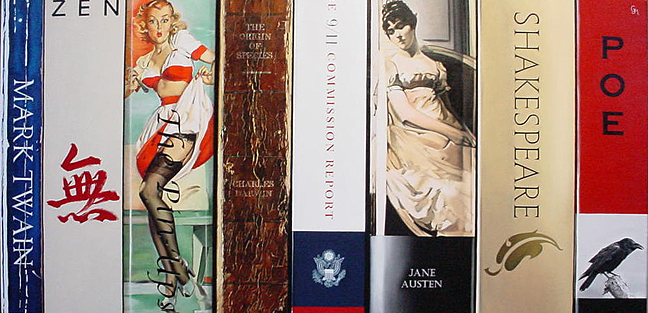 Bibliotheque I
12 x 24" available by special order, $725
Available by special order

24 x 48",

$1,595
Bibliotheque V
12 x 24" canvas, $725
on display now!
Available by special order

24 x 48",

$1,595
Bibliotheque VI
Available by special order

24 x 48",

$1,595
12 x 24" available by special order, $725
Reflections of Europe
24 x 48" canvas, $1,595
on display now!
12 x 24" available by special order, $725

24 x 48" Artist Proof embellished by the artist $2,595


"Reflections of Europe" was born out of John-Mark's feeling that Europe was something very important & rich that needed to be explored. Though he has been to the continent since doing the piece for solo shows in UK galleries, at the time he completed "Reflections of Europe", he hadn't yet been there.

This piece was heavily influence by hours upon hours of research, combing through endless important cultural events, places and people. John-Mark's ancestors were from Great Britain, perhaps explaining why 2 of the 7 books involve the nation. The Eiffel Tower seemed an obvious choice for John-Mark and remains the only book he has painted leaning to-date.

The choice of Picasso relates not only to the significance of Spanish culture, but also to John-Mark's own schooling as an artist and the art history courses he took. So many people, when viewing the piece in person remark about the fact that the pores on Picasso's face are clearly visible – indeed a master's depiction of a master! Greece was chosen, strangely enough due to John-Mark's own love of the color blue (or his own interpretation of the color) used in the architecture in Santorini. In fact, John-Mark had to order a specialized tube of blue paint in order to get the color correct. The choice of Venice was due to how iconic it is and the Matterhorn as a symbol of how important the Swiss Alps are to the continent.

Bibliotheque II
Available by special order 12 x 24" ($725) or 24 x 48" ($1,595)


Bibliotheque III
Available by special order 12 x
24" ($725) or 24 x 48" ($1,595)


Bibliotheque IV
Available by special order 12 x
24" ($725) or 24 x 48" ($1,595)


Bibliotheque VII
Available by special order 12 x
24" ($725) or 24 x 48" ($1,595)


Bibliotheque VIII
Available by special order 12 x
24" ($725) or 24 x 48" ($1,595)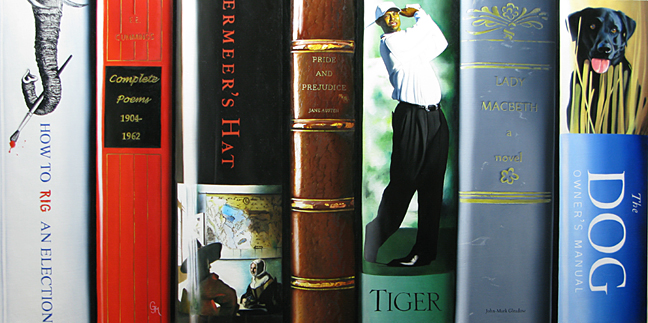 Bibliotheque IX
No longer available


Liberated
Available by special order $1,250
Journey
Available by special order 12 x 24" ($725) or 24 x 48" ($1,595)
In Full Bloom
Available by special order 12 x 24" ($725) or 24 x 48" ($1,595)