Mathias Muleme, born in Uganda and now in Canada, is one of the best artists practicing today in the intaglio medium. His imagery is unique, emotive, and passionate about the family.

In his own words, "My work is an attempt to convey my ideas, moods or general emotional experiences. I use shapes, colors, arrangement of objects and, above all, the human figure to achieve this. I create a calm and tranquil atmosphere in my studio. Using classical music as an elixir, I achieve the desired state of mind conducive to creativity. I sketch my composition in pencil, creating undulating shapes and calm romantic human figures which convey warmth, peace, love, dignity and tranquility of the human spirit. ...This work is not representational, but rather a form of self expression: it is imagination. Colors, shapes, arrangement of objects help in getting it all together."

What is an intaglio? An intaglio is an original print-making method involving a series of steps where the artist first prepares a flat sheet of copper metal by coating it with an acid-resistant ground. The artist then draws into the darkened coating exposing the shiny copper beneath it. The plate is then put into a bath of acid which etches the lines. The longer the plate is covered by the acid, the deeper the lines are. The artist then removes the acid-resistant ground and inks the plate by hand, the ink filling the incised lines. A sheet of dampened paper is then carefully positioned onto the plate and pressure is applied in an etching press, forcing the dampened paper fibers into the incised lines, and causing the ink to be transferred to the paper. As evidenced by the photos below, Muleme then creates an embossing plate which adds to the beauty and relief of the original intaglio etching.

I bought my first Mathias Muleme etchings in 1992 and love them now just as I did then. We are honored to share with you these few limited edition original etchings by Mathias Muleme. You can see them now at Saper Galleries. And maybe soon on your own walls!

Enjoy!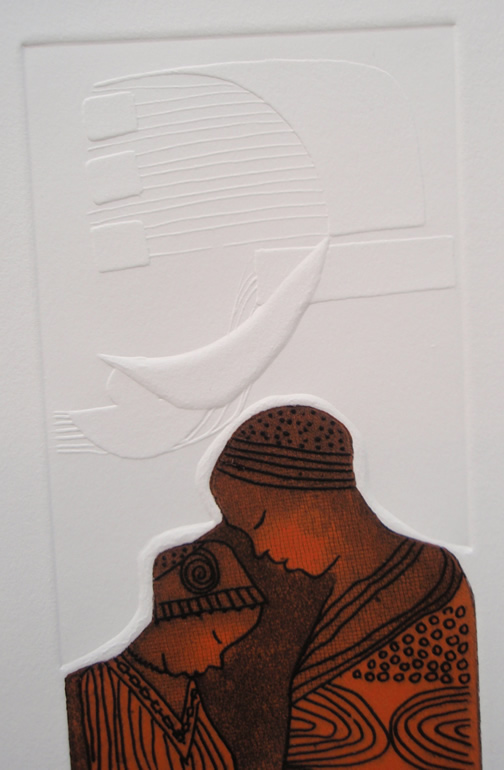 Family II
Detail of original embossed etching
(See entire image below)

Plate size: 19 x 4 1/4"
Paper size: 24 x 9 1/2"
$345