Unique acrylic painting on canvas
Signed
52 x 62" (and can be displayed horizontal or vertical)
Sorry, sold for $8,500.
Would you like to see other Ridgeway paintings?
This Bette Ridgeway painting won the runner-up best of show in the 2013 Art Comes Alive juried international competition in Cincinnati, Ohio!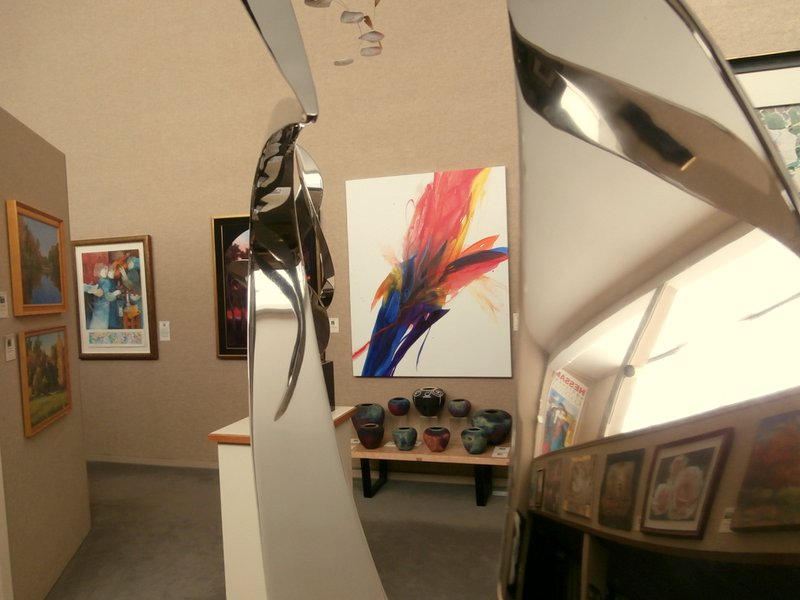 Liquid Light
as it was displayed in the center of the Saper Galleries high-ceiling east gallery
Flames of Passion
Unique acrylic painting on canvas
Signed
Please inquire to confirm availability
Enjoy the videos below of additional Bette Ridgeway paintings and let us know your preferences!
Bette Ridgeway



Pushing the boundaries of light, color and design, Bette Ridgeway is best known for her large-scale, luminous poured canvases. Her newest works celebrate her mastery of color and light on both canvas and metal. The work on aluminum and steel is layered with hand-fired resin, creating a glass-like quality that has garnered the artist international recognition.

The artist has won numerous awards, including the Oxford University Alumni Prize at the "Art of the Mind" exhibition at the Chianciano Art Museum in Tuscany in 2012. She participated in the inaugural London Art Biennale in January of 2013 and showed at the Gagliardi Gallery in London in April 2013. She was runner-up for the Best in Show award at "Art Comes Alive" sponsored by Art Design Consultants in June 2013. In March 2015 she will be presented with the Prize Sandro Betticelli in Florence, Italy.

"My work is a dialog between reality and the transcendent. I manipulate light, using multiple layers of the mediums to create depth, rhythm, and motion. A critic described my work as 'feeling like an image of arrested motion, poised to flare into movement as soon as one turns away' which says it all".

In the catalog for the artist's Millennium Exhibition in NYC, Laurence F. Johnson, AACR, the Curator of the John Deere Corporate Collection wrote, "The paintings really stunned me. They went off in my head with a psychedelic big-bang, forming a universe of kaleidoscopic stop-frame action of a thousand frames a millisecond. A billion light years of searching sound filled the hemispheres of my mind". The Deere Collection has acquired 3 large Ridgeway poured paintings over the years.

Her recent fashion collaboration with Japanese designer, Mihara Yasuhiro, gained her an international following. The 2013 spring/summer women's wear collection was presented during the Paris fashion week in October 2012. The designer selected many of the artist's paintings and incorporated them into the fashions.

"Infusing the work on a variety of surfaces with transparent color combinations presents me with incredible challenges," says Ridgeway, "along with very deep rewards".

Saper Galleries is excited and honored to present to its collectors, the unique, abstract, colorful, contemporary paintings of Bette Ridgeway!

To see additional paintings or to try one in your home or office please call or email us! Enjoy!